Because it seems I can't stop myself from creating something else since
lantis_lims
is nearly over:
Hi, all :). I've recently taken over
lizabeth_daily
, the Elizabeth Weir daily community. At the moment we're currently hosting a two week challenge (see below) and a discussion topic on our favourite Elizabeth icons. You can check out that discussion
here
.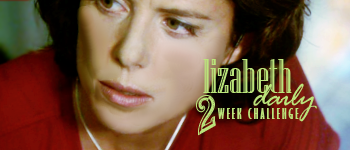 What's it all about? You make an Elizabeth icon every day for two weeks from the daily caps I provide. To post your icon, please create a separate topic every day labelled Daily Elizabeth icon # (insert the number of whichever day - 1-14 etc).

When does the 2 week challenge start? Thursday, 24th September.

Can I get a head start on the challenge? Sure! Here are the daily caps I'll be posting over the fourteen days.

What if I miss the opening of the challenge? Can I jump in whenever? Sure!

Can I advertise this challenge? Yes please! If you'd like, you can hotlink the little banner at the top of this post - or create your own!

Are you looking for any help? I'd love a volunteer to make individual banners for everyone at the end of the challenge.

To sign up, head over here.